Concert Teardrop

The Concert Teardrop has a fully developed voice, comparable to the Concert Hourglass, but a little less volume. It is a concert instrument, and is sometimes built by students at the Northeast Dulcimer Symposium, and the Advanced Apprentice Program.
Concert Hourglass

A fully developed voice, though not quite the depth and refinement of the Concert Series. The Concert Hourglass is often chosen by performers and serious students who want a low-cost entry into the Bear Meadow Concert Series. It is built on the same mold as the Swan and the Concert Grand, with a slightly smaller rib height.
The Swan
The Swan seems to be full of feminine energy. The design originated as a gift to Lorraine Hammond, and went on to become a favoite choice of performers. It has a more robust voice and dynamic range than the Concert Hourglass, due to choice of woods and a slightly deeper rib.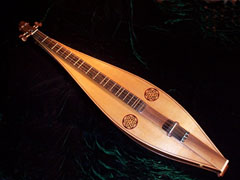 Baby Grand
The Baby Grand was originally designed as a baritone. But it turns out to have a wonderful full-range voice that performs equally well in conventional tuning. It is often used interchangeably -- baritone and conventional tuning -- with a suitable choice of strings of equal tension.