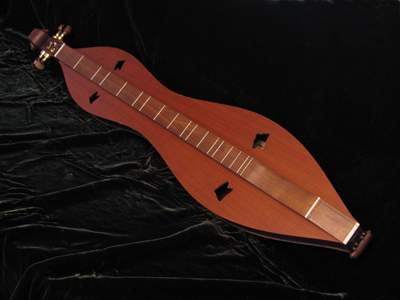 Standard Hourglass
For years I had chatted with Dwain at dulcimer festivals, and had always been drawn to his booth to touch and hear his exquisite collection of hand-built instruments. Even as a new player back in those early days, I could tell that these instruments were far more resonant and responsive than others I had tried.
But I already had a dulcimer and couldn't see why I would need another one! As I soon learned, one can never have too many dulcimers! At one particular festival I spent more time than usual at his booth -- I was drawn to one particular instrument that seemed to have an especially sweet voice, with the most compelling tone and responsiveness. Even in the crowded and noisy setting of this busy festival, this dulcimer, a Standard Hourglass, had hold of me. I noodled for hours -- I could not put it down. And of course, by Sunday afternoon of this weekend festival, it was mine.
It was this instrument that taught me that a dulcimer could indeed "sing" -- I learned to stretch far beyond the traditional bum-diddy-bum as I delved more and more deeply into its expressive qualities. Sometimes, when I have the opportunity to play at an open mic (which typically features more guitars than any other instrument), the comments are always the same: "That was beautiful. I didn't know a dulcimer could sound like that!" Granted, expressive finger-style playing depends a lot on the ability of the player, but it is the instrument that allows this expressiveness to shine to the fullest extent, responding to every nuance of the player.
Dwain's dulcimers are capable of projecting great song through fully open throats -- there is nothing held back with these instruments! A Concert Grand became mine about four years after I bought the Standard Hourglass, and for obvious reasons the new Grand became the object of my focus. But as grand as the Grand is, I frequently find myself returning to my old friend, the Standard Hourglass. Its beauty of voice still holds me transfixed, still sets me to improvising and noodling for hours at a time.
The Grand's body is slightly larger, deeper and longer, naturally resulting in a sound that is proportionately louder and deeper, but the Standard can hold its own in a side-by-side comparison -- its responsive resonance and sweetness ring true without fail, and it responds equally well to strumming, flat-picking, or finger-style playing. It is still my favorite "go-to" dulcimer, especially in situations where I don't want to risk traveling with the big Grand. And, just like a comfortable and trusted friend, it never disappoints in any way. I'm reminded of the old song, "Make new friends, but keep the old, one is silver, the other gold..."
Carol Walker
Multi-instrumental performer, music teacher
http://www.musicladycarol.com